NI MASCHINE
ADVANCED

Course
Go from sounds to songs in 12 weeks!
You can make interesting loops, what about full songs?
You have some basic knowledge of MASCHINE, but can't create full songs yet?
You know how to arrange in MASCHINE but still feel limited by the possibilities?
You find yourself constantly starting new projects and never finishing them?
You would love to know how to get more out of your MASCHINE?
You want your music in MASCHINE to be more exciting and engaging?
Ready to bring your MASCHINE skills to the next level?
If you feel you can get much more out of your MASCHINE, you are right!
Learn advanced production techniques that will make you sound unique
Stay focused and so that you get results
Work with a goal setting method to achieve more in less time
Get inspired to get new ideas for your music
Stay motivated enough to keep making music
Start and finish tracks and remixes
Learn to collaborate with other producers
Get better skills in weekly assignments
Get professional real time support and guidance
What our MASCHINE students say
Roy is a great teacher. He makes the lessons very accessible by explaining the elements and then demonstrating them.
---
Mary Mazurek, Recording Engineer, Chicago
What I liked about the course is the fact that it proves that technicality comes second as long as you have the inner creativity in you to prosper and share your music.
---
Nikki Escamillas, Music Creator

I learned a lot how you create your own individual sound and music profile in the whole process of making music.
---
Raphael Allgöwer, Bass Player, Germany
Learn with a structure instead of random tutorials!
MASCHINE Advanced Course is for you, if you...
Own NI MASCHINE MK3, MASCHINE+, Mikro or Studio hast and would love to get the most out of it.
Already have a basic knowledge of MASCHINE Software and Hardware and feeling stuck when producing with it.
You have a basic knowledge of music production, used a DAW before and want to add MASCHINE to your toolbox as an instrument.
You can already create beats with MASCHINE but cant get out of loops into long and arranged songs.
Are ready for making time to learn how to elevate your music production
Are very busy with life (work/familly etc.) and would love to learn how to create music quickly and get results.
Ready to invest in yourself and your music.
Get your listeners to want to hear more!
Hi, I'm Roy Perez
As a music producer, I am always on the lookout for new, interesting, and inspiring tools I can use to enrich my sound and make the general process of creating music more fun, intuitive, and fast.
At first glance on MASCHINE from Native Instruments I wasn't so sure if it would give me what I needed. It looked great and I saw others doing cool things with it. But the functionality wasn't something I could immediately wrap my head around and get this tool to do what I wanted for it to do.
As time went by and after using it for so many years, I fell in love with it. Among many reasons are its vast sampling capabilities, the creative freedom I feel when implementing MASCHINE in my productions as standalone, hardware, sampler or as a plugin in my DAW.
With time, I developed many different tactics to reach full songs using it without losing valuable time.
And today, MASCHINE plays a big role in 99% of the music I produce, whether it's sound design, creating beats on the fly, generating interesting melodies, applying effects, and working on sampling concepts. It even plays a role in my DJ sets as I trigger loops and add finger drumming techniques using MASCHINE in my live DJ sets.
Among the biggest advantages of MASCHINE is the ability to create short ideas and quickly develop them into full songs. This is something I see many MASCHINE users struggle with. And that is one of the reasons why I decided to create this course and help simplify the way my students can implement MASCHINE and use it not only as a sampler and step sequencer but as a powerful hardware-software DAW and best friend in the studio or on the stage.
Don't waste your creative time. Join us and get results!
NI MASCHINE ADVANCED COURSE
Start on 6 February 2023
When you join us for this 12-week group coaching program, you'll get:
Weekly Live Modules
Happening every Monday via Zoom & recorded for you to practice during the week
Weekly Q&A
With the Ableton Certified Trainer Roy Perez to lead you to the right directions, clarify your individual questions and keep you inspired & motivated & on track with your progress
Access to recordings of all calls
So that you can come back to them during the time of the program and won't miss out on anything
Printable cheat sheets and checklists
That help you implement what you learn in the modules and complete your homework
Private Community
To connect with other amazing music producers, collaborate with each other and stay creative with like-minded people
Educational discounts
That you can benefit from chosen plugins of our official partners
Completion Certificate
That's going to reminds you what you achieved and can be proud of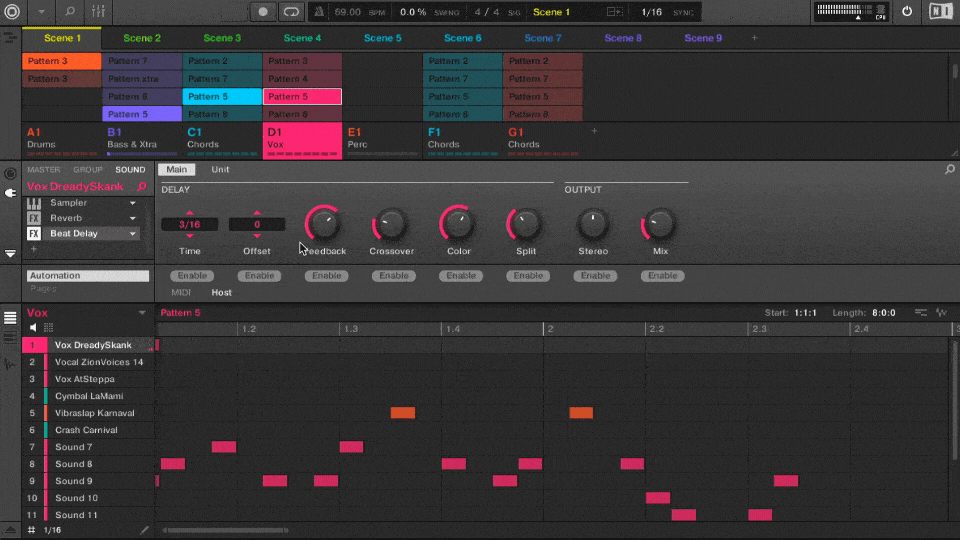 Are you ready to master your MASCHINE?
Not sure if the course is right for you? Schedule a free Assessment Call with us where the trainer gives you his honest feedback on whether your skills and experience are right for the MASCHINE Advanced Course
Where does the course take place?
The course takes place where you are. All the sessions happen via Zoom and the recordings will be uploaded to our teaching platform.
What if I'm a beginner?
This course is for advanced MASCHINE users. If you want to make sure, you're at the right entry level for this course, schedule an
assessment call
.
How does the course work?
This is a 12-week course with live sessions every Monday and a Q&A right afterwards. All sessions take place via Zoom (an online conferencing platform). You'll get access to all recordings in our course platform and additional support in a private community. After 12 weeks, you'll get additional access to all course content for 3 months.
What if I can't make the sessions live?
No problem! All sessions will be recorded, so you can watch them later. If you can't make a session live, you can always provide your individual questions in advance, so the trainer discusses them and gives you feedback. And you can always clarify your questions in our private community.
When does the course start?
The course starts on 6 February 2023 at 6 p.m.
What equipment do I need to participate on the cours?
You need MASCHINE MK3, Mikro, Studio oder MASCHINE+ as well as Ableton Live (10 or 11).
Is NI MASCHINE ADVANCED Course a self-study course?
No! We're going to work together module per module. You're not going to be left alone, if you have any course-related questions or if you get stuck on the way: First, we'll meet every week in our live sessions via Zoom where you can ask me personally all your questions. Second, you can ask for support in our private community.
Do you offer a payment plan?
Yes! You can pay in 3 installments à €598.
Will I get direct feedback from Roy?
Yes! All the sessions are hosted by Roy personally. You will get his real-time feedback and critic.
What if I'm busy right now. Can I enroll later?
We don't know when we'll run this course again. We always update our programs, so there is no guarantee that the content is going to be the same. The price is probably going up next time, too. If you believe, this is the right program for you, then this is also the right time. Don't miss out your chance to finish your songs and make them engaging!
Do you have any other question?
No problem! Send us an email to info@drumnote.de
Unlock the power of MASCHINE!